2013 FALL SPECIAL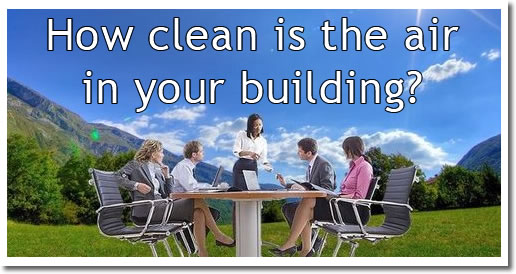 ANNUAL IAQ CHECKUPS
Our Annual Indoor Air Quality Checkup is designed to quickly identify air quality issues in your building and to provide a tool to help you keep the air as clean and health as possible.
While not as extensive or specific as our Air Quality Investigations, these checkups are a valuable tool for on-going IAQ management.
Services provided during an Annual IAQ Checkup include:
Building Walk-thru
Exterior Assessment

Drainage
Vegatation
Air intake (ground level)
Water intrusion points
Window/door caulking

Ventilation System Evaluation

Filters
Moisture
Dust levels
General maintenance

Standard Air Quality Testing

Temperature
Humidity
Carbon Monoxide
Carbon Dioxide
General Particulates

Mold Testing

Surface sampling - suspect surfaces
Air testing - non-viable (3rd party analysis)
Additional services are available upon request.
A full report will be provided that will include a summary of the investigation and findings, sample results with interpretation and recommendations regarding any issues identified and suggestions to maintain a health indoor environment.

We can accomodate any schedule and we are happy to complete the onsite work on nights or weekends if necessary.
Call us today at 651-705-8820 to get a quote based on your needs and facility or click the following link to fill out our online quote request form: